How to play the game "Bomb Blast Game"?
If you're the type of girl who loves action and adventure, we have an explosive online game for you right here! In this free maze game you'll be playing the part of a robot, and you'll have to set off bombs to smash through walls so you can reach the end. It might sound easy, but you'll have to be on the ball in this girls' adventure game! Read more
There's a lot more to girls' games than dress up games and makeover games, you know! There are tons of fun activities for you to try right here on MyGames4Girls.com. You could try cooking and baking, play sports games or go on adventures with your favorite cartoon characters. There's no telling what surprises you might come across on this site! Make sure you leave us a comment to tell us what you think of our maze games and girls' games, and have fun!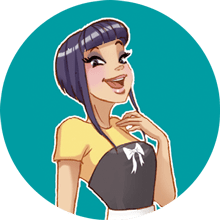 Bomb Blast is one of my favorites! We clearly have awesome taste! Come and play more of my fave free games!