How to play the game "Ben & Holly's Little Kingdom Game"?
Ben and Holly are a little boy elf and a girl fairy who live in their own Little Kingdom, an enchanted land full of magical beings. In this free princess coloring game, you'll get to fill in for the head illustrator of the cartoon series 'Ben & Holly's Little Kingdom' and color in a picture of the stars as they go on their next adventure. Put your girls' games experience into use and let your imagination run wild! Read more
If you've seen 'Ben & Holly's Little Kingdom' on TV or even in other girls' games, you'll know all about this cute cartoon series. Holly the fairy princess girl and her best friend Ben Elf must help each other to learn how to control their magic powers, and together they go on all sorts of fantastic escapades. Use the palette in this coloring game to create a pretty picture of a prince and princess as they explore the Little Kingdom, and keep browsing our girls' games for more fun with your favorite cartoon characters.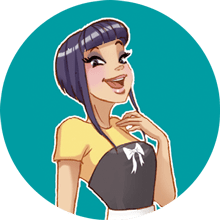 Ben & Holly's Little Kingdom is one of my favorites! We clearly have awesome taste! Come and play more of my fave free games!