How to play the game "Be a real hairdresser Game"?
Lots of girls want to be a hairdresser! Well heres your real chance! There are lots of techniques you need to learn to cut someones hair really well and you can try all of them out on Lulu in this game for girls who want to be a hairdresser! Start by choosing one of the pictures on the right side of the game. Each one reveals a different hair style for Lulu. Once you have selected one you will see it beside Lulu and you now need to try to make the same style! Read more
Start by using your scissors to cut her hair to the right length. When you have finished this, just lick on the arrow at the bottom right of Lulu's mirror. You will only be able to click on it when it starts flashing. If it is not flashing, then that means you're not finished cutting! For the rest of the game you can choose the colour of her hair, and you can put it in plats, or straighten it, or do other things too. See if you can make Lulu look like she does in the picture you chose! Good luck! And don't forget to show all your girls friends who will also love playing hairdresser!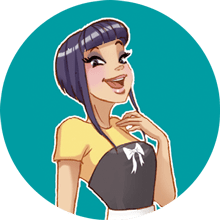 Be a real hairdresser is one of my favorites! We clearly have awesome taste! Come and play more of my fave free games!