How to play the game "Be a Real Baker Game"?
Heres a girls game all about becoming a baker! Everyone loves the taste of lovely freshly baked bread. Well how about learning to make your own!? Read more
To start, click on the button on the right. The first thing you need to do is add the water, milk and flour to the mixing bowl. Click on each one to add it. Then click on the mixer to mix it all up. It will then need to sit in a warm bowl to rise, so click on it again to start this process. In the next place you'll need to knead it with your hands. Finally, cut lines in it and brush egg yolk onto it. The last thing to do is just to put it into the oven by pressing the big red button. As soon as you've done one, the rest is easy. See how many loaves of bread you can make before your time runs out, and of course, don't forget to leave your highest score i nthe comments section down below!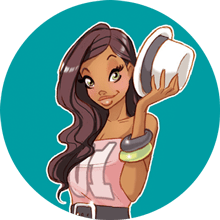 You're clearly loving Be a Real Baker - you should check out my pick of the best cooking games!