How to play the game "Barbie game specially for little girls"?
In this free preparation game for little girls you can play with the beaufiful Barbie! You can change the colour of her hair... blonde, red-headed or brown or even the colour of her lipstick, even though Barbie is most beautiful when she's blonde!!! Read more
Then you can choose her clothes so that she doesn't stay there in her underwear! This evening she's going out with Ken, so she'll wants to be the prettiest of all the girls in the restaurant so that he only notices her. Secretly she hopes that Ken will as her to marry him! Maybe you'll choose the princess dresse? Or will it be the nice plum coloured dress? If you like the Barbie games or games for small girls, there are lots more on theis site to allow you to have just as much fun as the big girls!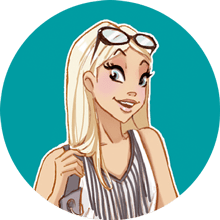 If you enjoyed Barbie game specially for little girls, you'll love these kids games just like me!