How to play the game "Baking cookies Game"?
Mmmm - here's another baking game to make your mouth water! In this girls' game, you're going to learn how to prepare cookies delicious chocolate chip cookies. Simply follow the instructions to help star baker Lucille as she mixes all the ingredients of her very own cookie recipe. Scoop out the cookies, place them on a tray and put them in the oven until they're golden and piping hot! Maybe when you're done you can bake some real chocolate chip cookies for you and your friends to enjoy? Make sure you ask an adult to help you! Read more
If you like these girls' cooking games, you're on the right page! We have loads of fun recipes for you to try, from sweet cakes and cookies to savory dishes like tacos, pizza or tasty plates of pasta. Try out a few and learn about all the tasty dishes you could try - you'll soon be an expert in the kitchen! Why not drop by our forums if you have some of your own recipes to share? Bon appetit!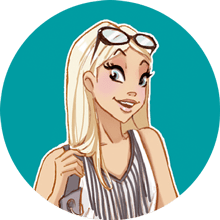 If you enjoyed Baking cookies, you'll love these baking games just like me!