How to play the game "Baking a Birthday Cake Game"?
Did you know that thousands of kids all over the world play our girls' games every day? Today we're celebrating our friend Jane's 13th birthday with a special cooking game! Jane is having a birthday party at her house tonight, but her family have been so busy getting ready and dressing up that they forgot to buy her a cake. Oops! Can you bake a birthday cake for her in this free cooking game? Read more
Start this cooking game for girls by slicing her favorite fruits (apples and kiwis) before baking the base of the cake. Like many girls, Jane has a bit of sweet tooth, so we know she'd love a coating of sugar, chocolate sauce or some other tasty toppings on her birthday cake. What sort of birthday cake would you like at your party? Leave us a comment to tell us about it!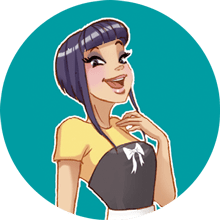 Baking a Birthday Cake is one of my favorites! We clearly have awesome taste! Come and play more of my fave cooking games!