How to play the game "Babysitter game"?
How good are you at being a babysitter or a nanny? With this brilliant game for girls, you can improve your babysitting skills and become a real nanny. Read more
By using the arrows on your keyboard for this babysitting game, you can move around in order to collect the objects which your baby has left around the house. Each object will give you extra points to add to your total. You'll need to collect all the objects and return back to the baby to complete the level. Watch out for the dog though, because it will make you lose lots of time. There are also some bonus objects to get you extra points, and don't forget that they might be hiding somewhere special - maybe in the back garden! Be quick though - you've got to be back at the baby's cot before the time runs out, or you'll lose the level and have to start all over again!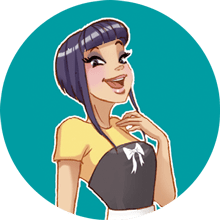 Babysitter game is one of my favorites! We clearly have awesome taste! Come and play more of my fave babysitting games!