How to play the game "Baby Coloring Game"?
Hi girls! It's Lee here, and I've got a brand new coloring game for you all to play! Last weekend Lilou, Lea and I were babysitting my two baby cousins, a little boy named Jamie and a little girl named Jenny. I did a drawing of them playing with their toys, but I didn't have time to color in the picture! You can help me color in my drawing in this fun new art game, and even print it out to show your friends and family. I'm going to show mine to Jamie and Jenny - I'll be they'll be very impressed! This girls' game is really easy and fun to play, so come on, let's get creative! Read more
To play this new coloring game, just click the icons at the top of the screen and choose the type of paintbrush you want, or the little bucket to fill in between the lines - it's much easier that way! Next, choose a color from the palette at the bottom of the screen. My favorites are red and gold, but you can pick whichever ones you like best. If you make a mistake just press the large eraser icon to rub it out, or click the smaller eraser to start over. Lilou, Lea and I all love babysitting, and we love playing baby games and art games! If you like this baby coloring game, let us know about it in the forums! See you soon!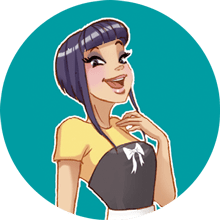 Baby Coloring Game is one of my favorites! We clearly have awesome taste! Come and play more of my fave free games!