How to play the game "Around the Clock Beauty Game"?
What a surprise, Lucy is late home again today. Well, she had to go to work, meet her friends, go to the doctor's and then hop on the bus, she's always in a hurry! The problem today in this free girls' game is that she is supposed to be meeting her boyfriend, Albert, to celebrate their anniversary, but she's going to need to get ready in record time if she wants to make it. How stressful! Can you help her out? Read more
An anniversary is a very special, important event for any couple, so Lucy really can't afford to show up late! Albert has also booked a table at the most expensive restaurant in the city, so Lucy really needs to look flawless. In this free make up game, you need to carry out a full beauty treatment. Cleanse, exfoliate, tone and moisturise the face. After that apply the make up. Tick tock tick tock...hurry! And don't forget the dress! Do you accept this beauty game challenge..?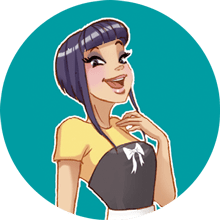 Around the Clock Beauty is one of my favorites! We clearly have awesome taste! Come and play more of my fave beauty games!