How to play the game "Animal Hospital Game "?
Anna has just made a massive career jump, it's so exciting! After years of dreaming of becoming a vet and taking care of puppies and other baby animals every day, she has been offered the chance to run her very own Animal Hospital in Borneo! In this free girls' game, you'll be giving Anna a hand during her first days on the job. This is going to be so cool, but you'll soon find out that it's also going to be a lot of hard work! Read more
Not everyone would be brave enough to leave home like Anna and work so far from home. Do you think you would be? If you are just as much of an adventurous animal lover, this game is perfect for you to test your skills. There are so many animals in need of care, the hospital is packed! Dogs, cats, elephants and birds...this place feels more like a zoo than a hospital! First up are the puppies, and you'll need to run from one stretcher to another to meet the needs of each puppy. Take their temperature, put plasters on their little paws, give them tablets, cough syrup, take their pulse...gah! Why are you still reading this!? The animals need you urgently! Work your way through the levels and cure away. Good luck!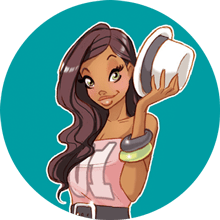 You're clearly loving Animal Hospital Game - you should check out my pick of the best animal games!