How to play the game "Amanda's Simple Smoothie Recipes Game"?
Enter Amanda's crazy kitchen! Amanda's friends love stopping by her kitchen, as she's always cooking up something new and amazing: cupcakes, pizzas, cakes...who knows! Today though, she has decided to try something totally new; fruit smoothies! What's more colorful, fruity and fun than this delicious drink? Does it make your mouth water girls? The problem though, is that Amanda's not really used to cooking with fruit. Can you help? Read more
For the perfect smoothie you will need: fruit, milk, ice and yoghurt. All the ingredients are already in the fridge waiting for you! You must cut the fruit into pieces, then pop the ingredients in the blender one by one. Watch out, don't splash your clothes! Once you've finished making the tasty smoothie, pour it into the glass and add some decoration...ta da! We think this might be the smoothest cooking game we've ever played...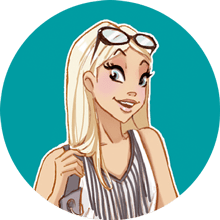 If you enjoyed Amanda's Simple Smoothie Recipes , you'll love these cooking games just like me!