How to play the game "Airplane Shooting Game "?
There's nothing like zooming through the sky at 30,000 feet! Thanks to our great girls' games you can become a pilot, fly in a hot air balloon or even take a trip to the moon! In this free girls' game you'll be able to take control of an old postal airplane and deliver letters between different boys and girls. Read more
You'll find lots of different obstacles in your path in this shooting game for girls, such as kites and balloons. Make them explode by using your mouse to shoot at them, and try to fly in between the cloud loops to earn extra points. Make sure you don't fly too close to the sun either, or your pilot will get burnt! Have fun, and keep browsing our girls' games for lots more adventures and challenges.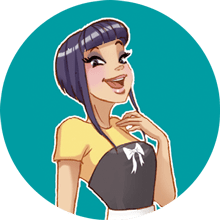 Airplane Shooting Game is one of my favorites! We clearly have awesome taste! Come and play more of my fave free games!