How to play the game "Adele Make Up Game"?
Everyone loves Adele! This British girl is without a doubt one of the most important musicians of the decade, and her beautiful voice can be heard on radio waves all over the world. In this star makeover game Adele is heading out to a very important awards ceremony, where she's been nominated for a grand total of 5 awards. There's a very good chance she'll have to step on stage and give a speech at least once tonight, so she needs to look good for the cameras. Can you make Adele look more glamorous than ever in this star girl make up game? Read more
If you love signing along to 'Someone Like You', 'Rolling in the Deep' or other Adele songs, you'll love giving her a new look in this star makeover game. Thanks to your beauty skills, Adele will look gorgeous as she accepts her awards and is bound to have a great time mingling with singers and musicians at the awards ceremony. Have fun with this Adele makeover game for girls, and make sure you check the star games category on MyGames4Girls.com for your other favorite celebrities!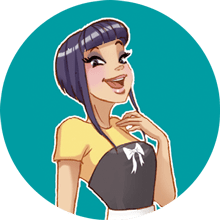 Adele Make Up Game is one of my favorites! We clearly have awesome taste! Come and play more of my fave celebrity games!