How to play the game "A girl in the snow Game"?
In cold girls games like this new years themed one, it is very cold this winter in the mountains and Marie decided to go celebrate the New Year with friends in the greatest restaurant in the ski resort. She's very discreet and doesn't like to stand out with too much makeup. But tonight it's party time, so in order to please her friends, she's going all out with the make up. Read more
Although with this cold weather it is not difficult to have rosy cheeks! To make her face more beautiful you need to make up Marie in this girls game. You can use the lipstick, the pencils, blushers and eye shadow, and even her jewelry. Nothing is too good for new years day and for this beautiful girl! Try out more girls games like this fun make up game, on mygames4girls.com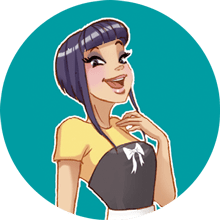 A girl in the snow is one of my favorites! We clearly have awesome taste! Come and play more of my fave make up games!