How to play the game "A cooking game with Dino's grilled Steaks"?
This cooking game is really good funn for all girls who like eating a nice big piece of meat! But you do need to be careful because it's a fast game. Start off by clicking the "START" button, and then click "START" again on the next screen. Now you'll be able to see a grill, some raw meat, and a plate. You need to put the meat on the grill. You have to turn it over after a few seconds. If you leave it too long it will burn and go black - then you've lost it! If you do it too quickly it will still be pink, so you'll have to wait longer. If it's just right, the meat will turn brown. Read more
But thats only one side...then you need to wait a few seconds after you've turned it over, so that the other side can cook too! As soon as both sides are cooked, pick it up and put it in the plate. You'll get a different amount of points depending on how well cooked it is. Be careful though, if you put more than five steaks on the plate and they're not cooked right...you lose!
Don't burn your fingers on the grill though - it's hot! HINT: if you just do one or two steaks at a time, and keep turning them every couple of seconds, they'll be cooked nice and evenly all over - and you'll get more points! Also - try adding them to the sauce instead of the plate when they're cooked!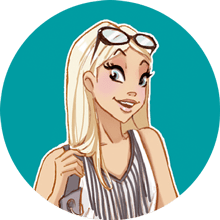 If you enjoyed A cooking game with Dino's grilled Steaks, you'll love these cooking games just like me!