How to play the game "A before-after makeover Game"?
Among the makeover games this is one of the more complete games because you will really see a big difference between the person you have chosen to make over at the start, and the end result. Indeed, this game consists of some quite ordinary models who feel rubbish about themselves. So they really want to be selected by you to be different and perhaps become stars. From the very start of this girls game you can choose the girl with whom you wish to play. Read more
By clicking on the arrows around the clothes, accessories, hairstyles and makeup, you can change everything as you wish. In the end, you can admire the result by comparing your work with a picture of the girl that you just gave a makeover to. A real before-after game! Try out more makeover games and make up games right now!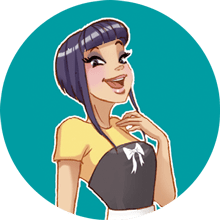 A before-after makeover is one of my favorites! We clearly have awesome taste! Come and play more of my fave dress up games!